RECIPE
Recipes for Shichimi Cooking to Spice Up Your Day
Miso Soup with Tofu and Snow Peas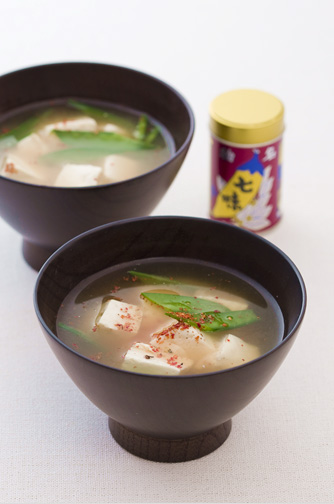 [ Ingredients (4 servings) ]
Shichimi to taste
1/2 Tofu, diced into 1cm cubes
8 snow peas, strings removed and cut diagonally in half
4 cups fish broth
3~4 tablespoons miso
Cooking Directions
Bring fish broth to a boil in saucepan. Add tofu and snow peas.
Add and stir miso until dissolved. Bring back to a boil, and immediately turn off the heat.
Serve in soup bowls. Sprinkle some Shichimi just before eating.
Dried Curry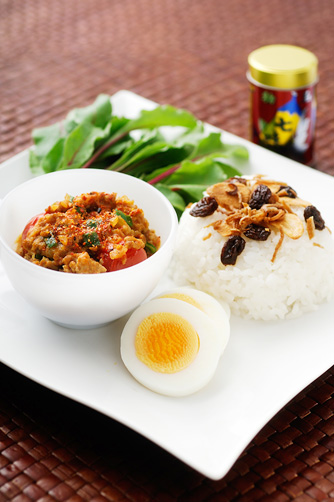 [ Ingredients (4 servings) ]
Shichimi to taste
500g ground pork
2 tomatoes, unskinned and grated with grater
2 cloves garlic, minced
1 1/2 onions, minced
4 green peppers, minced
8 cherry tomatoes
2 teaspoons each salt and soy sauce
1 tablespoon curry powder
1 tablespoon vegetable oil
4 servings white rice, cooked
(toppings of your choice; raisins, sliced almonds, fried onion, boiled egg, etc.)
vegetables of your choice
Cooking Directions
Heat vegetable oil in skillet and add garlic and onion. Sautee until tender.
Add ground pork and cook until brown. Add green peppers and grated tomatoes. Simmer.
Add salt, soy sauce, curry powder and cherry tomatoes. Add Shichimi and adjust spiciness to your liking.
Serve on plates with cooked rice and vegetables of your choice.
Mushroom-Rich Hearty Soba Noodles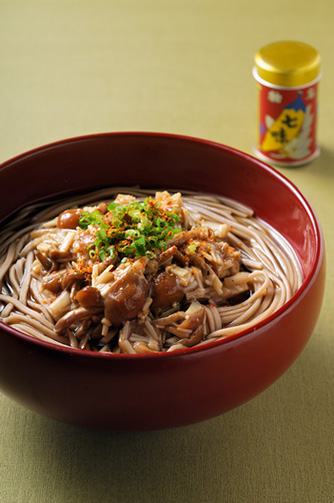 [ Ingredients (4 servings) ]
1 bunch enokitake mushrooms, 1~2cm stem-ends cut off, then cut into 1cm pieces
300g nameko mushrooms, rinsed
2 tablespoons soy sauce
1 tablespoon each sake and mirin sweet sake seasoning
1 tablespoon vegetable oil
Shichimi to taste
4 servings soba noodles, boiled, rinsed in cold water and poured with boiling water
4 servings condensed noodle soup base, diluted with water following label directions and warmed spring onions, chopped
Cooking Directions
Heat vegetable oil in pot and cook enokitake and nameko mushrooms.
Add sake, mirin and soy sauce, and cook until moisture evaporates. Serve noodles in large bowls, pour in diluted noodle soup, and top with 1.
Sprinkle with Shichimi and garnish with some spring onion to your liking.